Thank you for your interest in our Cub Scout Pack 163. We are excited to share our program with you and your family. Here at Pack 163, cub scouting is a family affair. We expect our parents to be actively involved and we welcome family and friends at our meetings.
Your participation will not only strengthen your bond with your scout but benefit the entire pack. The friendships and the memories will last a lifetime.
Cub Scouting is a fun year round program that teaches character development, spiritual growth, good citizenship, sportsmanship and fitness, family understanding, respectful relationships, personal achievement, friendly service, fun and adventure, and preparation for Boy Scouts.
It has a long history of helping families teach children the lessons they need to become successful in life.
The methods of Cub Scouting includes living the ideals of scouting, belonging to a den, using the advancement plan, involving family and home, participating in activities, serving home and neighborhood and wearing the uniform.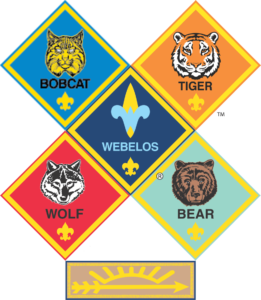 When your son joins, he must earn his Bobcat badge before he can advance to the rank of Tiger, Wolf, Bear, or Webelos.
Based on his age and grade, he will be assigned a rank and a den. First graders are Tigers. Second graders are Wolves. Third graders are Bears. Fourth graders are Webelos which stands for "We'll Be Loyal Scouts." The Arrow of Light rank can be earned by completing four required adventures and three elective adventures of the Webelos program.
The Advancement Trail is made of the aforementioned ranks and the many required and elective adventures. There are also other awards that your son can earn depending on his interests.
In a typical year, you can expect to have the opportunity to participate in activities like service projects, pinewood derby, hiking trips, camping, sports, games, arts and crafts projects, STEM projects and council events like Cub-O-Ree, Scout-O-Rama, and Cub Camp.
Your input and leadership will help determine our future activities and how much fun we are going to have together.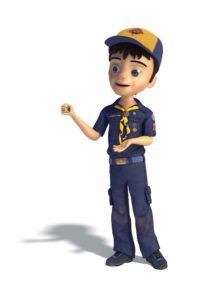 Our dens meet twice a month on Monday nights at 6:30pm at the John Sinnott Elementary School on Yosemite Avenue. Our Pack Meetings change every month based on the choice of activities, holidays, community events, etc. Examples of past pack meetings include camping, hiking trip, swimming, going to a pumpkin patch, pizza party and local festivals.
We hope you will come to one of our meetings or events to get to know us. Check out our calendar for the next opportunity. We look forward to meeting you and your family and welcoming you to scouting.
Next Steps...
Email us for more information on how to get your daughter or son started in scouting.